George's Story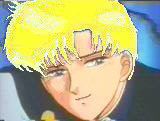 "Go! Send them to Hell and beyond!!" "Yes, Sir!" echoed the large group of commanders in the room as they scrambled away, preparing for the big battle. "Go! Fight for our country! For our future! And for our children!" said the king. Then, making a sudden decision, "I myself will go with you! Chancellor! Prepare my weapons and armor!" "But, my Liege!" the chancellor replied, "You must stay here and help defend!" The king winked and smirked lightly. "What good does a dead king do, eh, my good friend?" his face became hard as steel as his iron will asserted itself. "Well, more than a useless and cowardly one! I'd rather die in battle than surrender to Evil! Let us be off!" he shouted, as a big "HAIL!" boomed across the palace and pierced the silence that had settled for the night.
Melchior gently nudged the boy. "Sniffle... sniffle..." "There, little friend... Who are you?" "Who are you mithter?" he asked, afraid. "Mama... mama said never to talk to strangers..." "My name, little one, is Melchior... who are you?" The boy looked up blankly. "What doeth that mean, mithter?" Melchior sighed. This was going to be difficult. "My name is Melchior. Hello!! What is your name?" "My name..." the little boy suddenly appeared more frightened and whimpered a little. "Now, what's wrong, little one?" "I don't remember, mithter..." he whimpered and looked at the ground. "Where are your papa and your mama?" "I don't know..." Melchior stared. Wow. A kid with amnesia and no parents to speak of. This was a going to be a weird day, he knew, since his coffee cup had spilled on his robe as he awakened. The problem was that he hadn't made the coffee. Well, whatever... "Hm. What do you say you come to my house and eat some chocolate?" Melchior asked. The boy looked up at him. "Thank you, sir.." Melchior goggled. "Uh, what did you just say?" "Umm... Thank you, sir." the boy said in a stronger tone, no longer seeming so little Christ. What WAS this kid?? "Follow me, little one!" Melchior said happily, too confused to keep thinking about it. "Yes, sir. Sir..." "Um?" "Could you carry this sword for me? I think I can't really..." Melchior was really dumbfounded. "SWORD?" "Yes, sir- over there," he pointed. "Beautiful blade, youngster... A little worn, but I'm sure we can do something with it!" Melchior grinned happily. "Wow, what a sword... I wouldn't mind fixing one of these!!" he muttered to himself. "Yes, sir?" asked the boy attentively. "Nothing, little one- let's go!"
Melchior was intrigued, but happy. The little kid spoke perfect english now, a week after they had met. He still couldn't believe it. He was very smart, and didn't seem to notice the change in his pronounciation or vocabulary, or that he was growing very fast, but then, again, he was still just 3 years old. He had shining blonde hair, and blue-grayish eyes... He was still thinking about a name for him.... There was one floating at the back of his mind that he just couldn't get. He looked at him trying to lift the sword again. "What about.... Davis?" The little boy came and smiled. "Nah." "Darien?" "I like that one," he said, and frowned. "George?" "I like that one too..." he seemed puzzled. "Which one do you like best?" "I don't know..." "I'll choose it for you, then!" Melchior grinned evilly. "Yes! Please do!" he said, looking upwards. Melchior reeled. He'd never expected the boy to let him take the decision. "George, then..." he said, recovering. "Thank you, Melchior!" "You are welcome, George." Melchior smiled.
Melchior chuckled. He remembered that scene oh so well... "George! How's it going?" he asked to the young boy working on slashing down a tree- with a katana. "You... huff... sure there isn't.. puff... an axe around?" he asked, grinning. "There would be no point in doing it with an axe, and you know it," Melchior said, with a smirk. "Channel your energy! Feel it flow around you! Strike your best blow!" he said. "You... puff... always... say that!" "And I'm always right, am I not?" George sighed with what little breath he had left. "Drag... blast it..." he said, smiling, and started concentrating on hitting the trunk quickly with his eyes closed. "Good!" Melchior said. A slow silver aura started forming around him. "H-huh!?" It went. "No! You broke your concentration!" "But-" "No, no buts, George.... Come to terms with your curiosity and leave it alone. The glow, you will know what it is once you attain it and cut the tree down." George frowned. He started again, the silver aura making his body and armor glow, a feeling of warmth and purity spreading around him. "Good! Go on!" The blows were quicker than ever, so the only thing to be seen was the lightning blur of the blade. "Now! Smash it!" With a fierce swing backwards, the blade started to glow the same silver color, and then whipped forward incredibly fast and sliced the tree in half.
Melchior was excited. -Dear, oh, dear, George's got QUITE an aura! he said to himself, pacing around. -Never seen anything like that!! -Wonder where did he get it from... -Hrm. -Nevermind, I guess... But still, hrm... How the hell did he learn to focus it on his sword!?
"Are you all right?" the King asked, anxiously. "Good enough..." the Queen smiled. "I wish you could stay..." "I can't... you know that the odds are against us, and even now we're suffering heavy losses..." "I know..." the Queen said, and kissed him in the cheek. The King blushed a little and bowed, and turned around. "Take care of our little Prince!" he said. "Endy's all right..." the Queen smiled. "Go and come back victorious, that we may embrace and have peace again!"
The wind blew on the King's hair as he went forward to the battlefront. The Kingdom of Sylvan, whose inhabitants were powerful magicians as well as tall, proud men, expert at fencing, was under siege by the kingdom of Valador. The Valadrim, or emperor, was determined to subdue them by force, so he could then conquer the rest of the planet, and, soon after, the planets surrounding. Especially the blue one over there. "We're not through yet, though..." the King gritted his teeth. Because of a traitor in the court, half his forces were already done for, in a gigantic ambush at Daryl's Claw passage. The traitor had been sent in chains back to Valador, where a worse fate probably awaited him than any the Sylvan could make for him. Still, they were fighting. The Sylvan Knights were extremely powerful in both weapons and magic, and were much more powerful than any other fighting body. But half of them had been killed in the Daryl's Claw as giant meteorites of deep, black, burning fire rained over them, as the Valadrim himself gloated over his powerful, but extremely slow to cast, black magic. This would be the day, he thought. They would either win, or lose- but if they lost, the Valadar would not survive to bring chaos unto the world. He himself would see to that.
The Queen wept, alone, in her room. News of the defeat of the Knights had just been delivered, as well as the news that his husband had destroyed, in the last ditch of Sylvan power, the whole of the enemy forces... as well as him, in a flash of pure white magic. He had invoked Purity, with the help of the soul energy of the Sylvan people. The Kingdom would never recover, and it would be only a few years before the scars of war destroyed what was left of the once-glorius Sylvan kingdom, she knew. She looked at the sleeping child beside her. He looked so much like his father... She shook her head determinedly as tears rushed to her eyes. The child must have a future... Spending what little energy she had left, she teleported him to the blue planet. He must live there... and he must have the sword his father intended for him... Tumbling down with exhaustion, she exhaled a last, deep, sigh, happy, in a way, knowing that she had saved her child and would now be again with her beloved...
Melchior was puzzled over George. There was something strange about him, not only his aura, as he suspected at first, but something deeper. There was some immense magical energy in both him and his sword, which he now wielded with grace- and cut trees with without even dulling a point of the edge. He couldn't quite tell what it was, but his whole appearance was not at all normal. His ears were a little pointy.... Not excessively, as in Elves, but in a slightly less noticeable way, and his eyes were, also, very unlike any he had seen. They were of a blue-grey color which resembled a cloudy day, and, to match, his expression was many times serious, with maybe a tinge of sadness. He had grown up very fast, and was almost six feet tall- and not only in body, but in mind, as well- he was capable of writing excellent poetry and novels when he was in the mood, and his seriousness, when he was serious, had not the feeling of childhood sulking, but of maturity. Melchior shook his head. There was something strange about his dear pupil. He couldn't put his finger in it, but he almost didn't act... human, at times. He was a little quieter, and meditative, but his feelings were very deep indeed. He was, indeed, shy- he had few friends, but those he had, were always there for him, because they were touched by his frankness and honesty, and sense of honor and friendship. There was something strange about his dear pupil. Melchior finally sighed, and closed his eyes. He was getting nowhere with this, and he knew it. "Blast it all..." he thought. "He may yet someday learn who he is. Until then, it's best to forget."